אנחנו חיים במרחב הדגיטלי כבר די הרבה שנים, יש יותר מעשור למכשירי המובייל החכמים, ומנוע החיפוש של גוגל כבר בן 20. אין ספק שעולם החיפוש שינה באופן דרמטי את הדרך שאנשים עושים דברים אבל לא פחות חשוב את הדרך איתה אפשר להבין אותם. דרך השימוש שלנו במרחב האינטרנטי לאורך השנים, קרו הרבה דברים מעניינים ששווה להתעכב עליהם ולהבין אותם.
אנשים, משתמשים מצפים לדברים מאוד משמעותיים כשהם מחפשים במנוע החיפוש של גוגל, הם פונים לסרץ בשביל שיוכלו לקבל תשובות על הרכב אותו הם מחפשים, שעות שבהן מקום פתוח או סגור, ביקורות ועוד. והעובדה היא שהם עושים זאת כל הזמן- מצד אחד הם רוצים דברים מאוד פרקטים כמו תמחור ומיקום, אבל מצד שני הם גם מחפשים אחר השראה ועיצות, ו- הם מצפים שהכל יקרה מאוד מאוד מהר, למעשה, הם רוצים שזה יקרה בשתי שניות ואם זה לא קורה הם יכולים לעזוב את האתר שלכם. עד כדי כך החיים המהירים נהיו מטורפים.
אנשים כיום נמצאים במכשיר הסלולר שלהם, ובמרחב הדיגיטלי כל הזמן. מחקרים בארה"ב מציגים כי בכל נקודת זמן 84 אחוז מהאנשים מחפשים אחר רכישה כלשהי בקטגוריות שונות. מחקרים של גוגל זיהו באמצעות החיפוש והניטור של המידע ב"סרץ" שאנשים כיום הם יותר סקרנים, יודעים מה הם רוצים וחסרי סבלנות זאת יותר מבכל תקופה אחרת.
Whether searching for toothbrushes or automobiles, shoppers want the best and they're turning to search.
וחשוב להגיד כי אנשים מחפשים בגוגל אחר דברים קטנים, או גדולים- והם מצפים מתוצאת החיפוש לספק להם חומר שעוזר להם להחלטה. זה יכול לנוע בין מברשת שיניים, וילון לאמבטיה (כן, כן יש הרבה חיפושי וילון אמבטיה) ועד לרכבים שהם רוצים לרכוש. העובדה שיש לנו את מכשיר המובייל בכיס גרמה לכך שאנשים משתנים כי הם מבינים שיש להם עוצמה חדשה לגמרי, שהופכת אותם למאוד חזקים וזה קורה על בסיס יומיומי.
גם אם אנשים לא יודעים בדיוק מה הם רוצים, הם פונים אל מנוע החיפוש כדי שיעזור להם ברעיונות ובהשראה. וכך, לאורך השנתיים האחרונות גילו בגוגל שאנשים מוכנים להתנסויות חדשות של מותגים חדשים זאת יותר מאי פעם. העובדה שהם מחפשים באמצעות המובייל מונחים כמו: "brands like" ו- "stores like" גדלה בשישים אחוז במהלך של שנתיים בלבד.
כשזה מגיע לרגע הרכישה, אנשים מתחילים להיות מאוד חסרי סבלנות. הם רוצים מידיות, הם רוצים לקנות לא משנה איפה- באון ליין או באוף ליין- העולם, צריך להגיב אליהם וכמה שיותר מהר ומדויק. שימו לב למשל שהמונח "Open Now" בחיפושים עלה מ2015-2017 ב300 אחוז.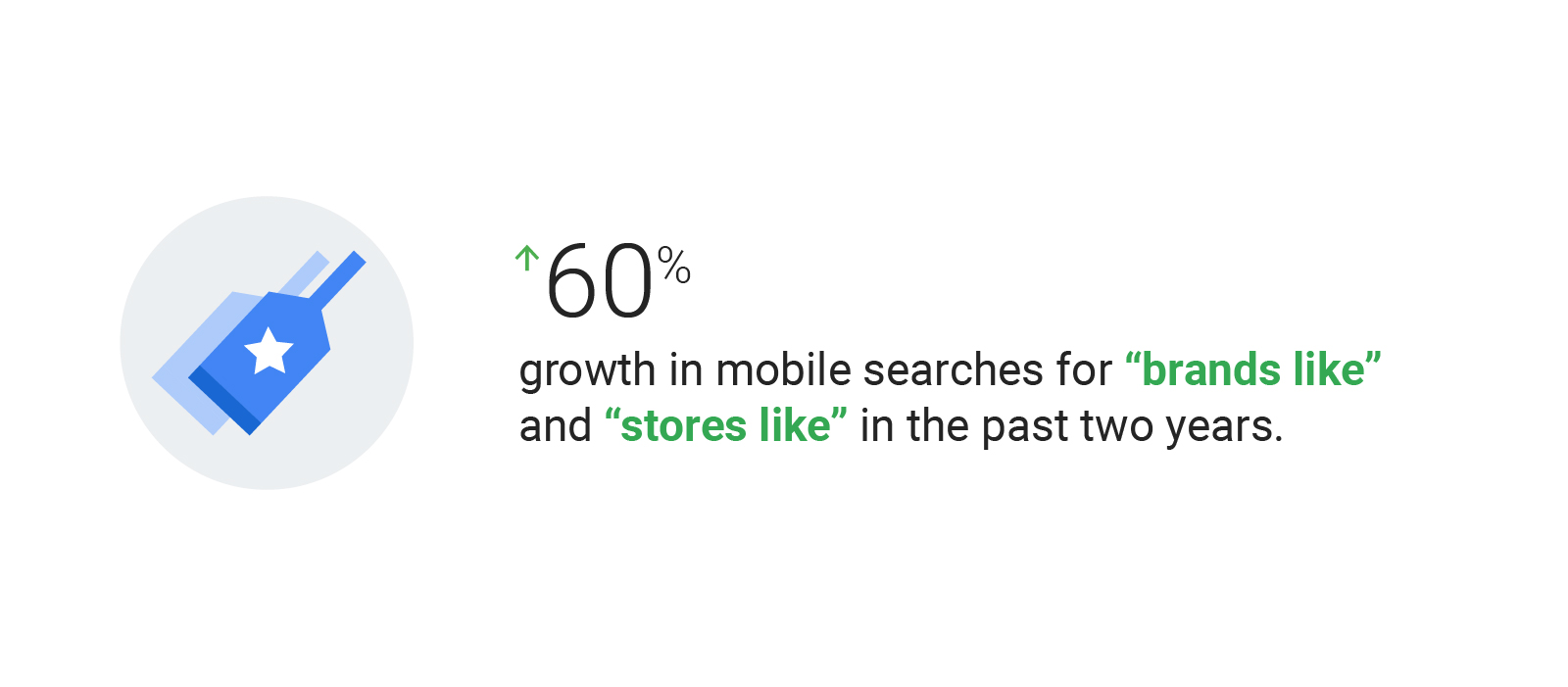 חיפוש, זו התנהגות פרסונאלית, אנשים מתחילים לחפש באופן פרסונאלי יותר ויותר במנוע החיפוש של גוגל. למשל יש עליה של 60 אחוז חיפושים במובייל עבור מונחים שהם: "__ for me" וזאת עליה שקרתה בשנתיים האחרונות- קרי, שינוי בדפוס ההתנהגות. ויש יותר משמונים אחוז עליה בחיפושים במובייל בארבע שנים האחרונות שנראים כך:  "__ should I __"  קרי, אנחנו מחפשים מגוגל אישור, תמיכה, עזרה.
Search enables marketers to tap into real insights across media to predict consumer intent at scale.
אם אתם רוצים ללמוד יותר על שינוי, להבין במה זה אומר לנהל תהליכים טרנספורמטיבים בחברה, או מצד שני להבין כיצד תוכלו לטפל בצורה חכמה בטרנספורמציה האישית שלכם. אני ממליצה לכם מאוד לקרוא את הספר שלי שיצא השנה. "המתכון לשינוי", מדריך אסטרטגי לאתגר של עולם שעובר שינוי על בסיס קבוע.