גוגל עשתה מהפכה בחיפוש וכדאי שנכיר אותה, למהפכה קוראים BERT וזה למעשה מודל חדש לגמרי לתוצאת החיפוש שלנו שמתבסס על שינוי בדרך שבה המנוע בנוי, מבין את הדטה, מחבר את הנקודות ומוסר לנו תוצאה-שבעיני הופכת להיות להרבה יותר אנושית. אני חושבת שהמהפכה של גוגל עם ברט היא מהפכת האנושיות של החיפוש. אין ספק שהסקרנות של האנשים רק גדלה, מיליארדי אנשים בכל יום מחפשים אחר דברים שונים, ועל פי גוגל 15 אחוז מתוך החיפושים מהווים "קוורי" שלא ראינו בעבר אף פעם! אז גוגל החליטה להשביח את התוצאה ולבנות דרך שמייצרת לכם תשובה יותר חכמה לשאלות ששאלתם אותה. 
We see billions of searches every day, and 15 percent of those queries are ones we haven't seen before
כשאנחנו ניגשים למנוע החיפוש , לא תמיד אנחנו מחזיקים את ההבנה המובהקת באילו מילים או ביטויים לחפש את מה שאנחנו צריכים, כי פשוט לא תמיד אנחנו בדיוק יודעים מה אנחנו רוצים. חלק מהחיפוש קשור לרצון שלנו ללמוד ולקבל ידע שלא היה לנו לפני שהגענו לשלב האקספלורציה. בבסיס מנוע החיפוש של גוגל, יש את ההבנה שהוא מנוע להבנת שפה, וגוגל מחפשת לבנות את הכלי בצורה כזו שהוא יוכל לעזור לנו כמה שיותר להבין את ההתבטויות שלנו, את עולם התוכן בו אנחנו מגששים ולשלוף לנו מהאינטרנט (העצום) את התשובה הנכונה ביותר. החידושים האחרונים שגוגל מכילה במנוע כוללים טכנולוגיות מתקדמות של בינה מלאכותית, ולמידה מחשובית שמאפשרים בפועל לייצר שיפור משמעותי בדרך שהוא (המנוע) מצליח להבין את הכוונות הגלויות והנסתרות שלנו. 
כל הכוונה היא "לעשות האקינג לשאלה ששאלתם את המנוע" Cracking your queries כך שנקבל בפשטות את התשובה הטובה ביותר. על מנת לעשות זאת ערכו בגוגל הרבה מאוד ניסונות ובחנו את השינוי בפועל.
תראו למשל את השאילתא הבאה:  "2019 brazil traveler to usa need a visa" המנוע יודע לנתח מתוך הטקסט החופשי את המשמעות ולחבר כמו מוח אנושי את סוג השאלה והמשמעות שלה. בעבר האלגוריתם לא ידע לנתח את ההקשרים האנושיים ואת החיבוריות בין מילים שיוצרת משמעויות חדשות. עם מנוע החיפוש המחודש השאילתא יודעת להתמודד עם ניואנסים והקשרים על מנת לספק תוצאת חיפוש הרבה יותר טובה.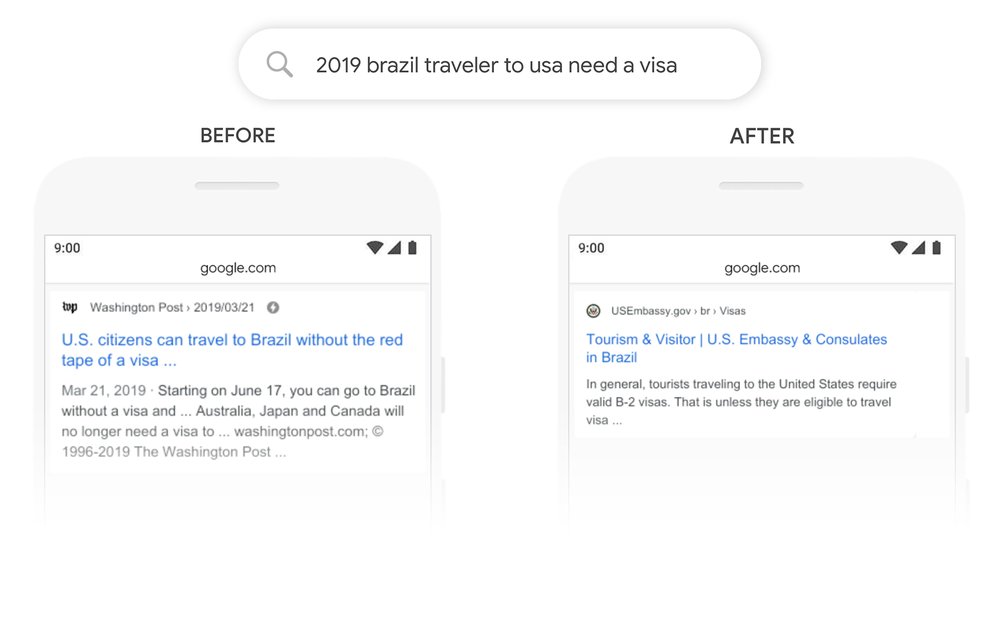 או במקרה הזה: "do estheticians stand a lot at work", בעבר המערכת היתה מונעת מתוך חשיבה של התאמת מילים למושגים, ולא היתה מנתחת את השפה בצורה אנושית. יחד עם המודל של "ברט" היא מבינה יותר לעומק את המילים ויודעית לספק שוב גם במקרה זה תוצאה הרבה יותר מדויקת, ו-אנושית.